'THERE WILL BE ANOTHER DAY.....'
By Peadar O'Donnell ; first published in January 1963.
I made a few trips to the District Court before I was remanded for trial at the Central Criminal Court , but it wasn't too clear to me what lay ahead. I thought it likely that somebody in a position to indulge himself lost patience with me and decided to have a go at putting me out of the way for a while. I encouraged myself that District Justice Cussen did not take too serious a view of my case.
There was, however , always that nagging thought that I could get a considerable sentence - it was not that I minded jail so much, for I can always use time usefully enough but, without me, 'An Phoblacht' might lose sight of the townlands. Therein lay my worry.
Mr Hanna was a trial judge and when I was asked how I pleaded , guilty or not guilty, I remained silent and greatly to my amusement I found that this put the State to the trouble of empanelling a jury to hear evidence to determine whether I was mute of malice or by the visitation of God. I waited until the first juryman got to his seat and I spoke across to him : "Malice" , I said, "sheer malice." The waiting jurors laughed , but the senior counsel for the State pictured me to the jury as a good bit of a scoundrel who used considerable gifts to stir up trouble. In the course of his address, he read the exchange of messages between the landlord's agent and me, quoting from 'An Phoblacht' , and he was taken aback when the jury laughed.
When the State rested its case and my turn came, I explained to the jurors that refusing to recognise the court simply meant that I didn't recognise "the lad in the wig". But I
did
recognise the jury, however, as they were neighbours of mine and I had a word to say to them....
(MORE LATER).
THE WRONG ARM OF THE LAW......
Roisin McConnell claims she was abused, called "a murdering bitch" , "Satan" and "the Devil". She claims gardai told her that her child would be taken away, that her husband was having an affair, that she would "do seven years in jail" and that she was "going to get stabbed". A named garda told her that when this happened, he would spit on her grave, she says.
By Sandra Mara.
From 'Magill' Annual 2002.
The other named garda "then got photographs of the body of Richie Barron and started to push them into my face and made me look at them. While this was going on, 'Garda A' then started to call me "the Devil" and told me I was Satan. He also told me that Richie Barron was going to come back and haunt me and told me that my husband was having an affair with [named female]. 'Garda A' spat on the wall and he made me bless myself and pray to my dead father.
He said he would say a prayer to Richie Barron and then said to me that I ask my father to tell the truth. All this went on for about two hours between six and eight o'clock in the evening. 'Garda A' told me that I was going to get stabbed in Raphoe town and that he would come and spit on my grave. He then lifted his leg and farted."
Following her release, the custody officer asked if she had any complaints, and she complained that 'Garda A' and the other garda had assaulted her, shoving her from shoulder to shoulder around the interview room. She says the custody officer did not take any written note of her complaint but was "smirking" at the time. The female officer arranged for her to be collected from the station and that while in the room , this female officer said "For what it's worth, I believe you."
(MORE LATER).
IRISH REPUBLICANS TO COMMEMORATE THE CLONMULT MARTYRS.
The 14 IRA Volunteers that died as a result of the Clonmult massacre in February 1921 will be commemorated on Sunday 24th February 2013.
On the 20th February 1921 , IRA Captain James P. Aherne and Volunteer James Glavin , two members of an IRA 'Flying Squad' that was based in Cork, watched as one of their number headed off on a short stroll from the cottage they were in to a near-by stream to collect water for the IRA Squad : a poacher , an ex-British Army man, was on the far side of the stream laying traps for rabbits when he spotted the man , whom he knew to be an IRA member, and watched as the IRA man filled as many buckets as he could carry and observed as the Volunteer headed to the near-by cottage. The poacher reported the sighting to the local RIC and they , in turn , called-in a Black and Tan murder gang. The cottage was soon surrounded by these armed pro-British thugs. Twelve I.R.A. Volunteers were killed and another two were executed later :
Captain James Aherne from Cobh County Cork was killed while jumping a fence 200 yards from the house.
Volunteer Jeremiah Aherne, from Midleton, County Cork ,was killed in action.
Volunteer Liam Aherne, from Midleton, County Cork, killed in action.
Volunteer Donal Dennehy, from Midleton, County Cork, killed in action.
Volunteer David Desmond, from Midleton, County Cork, killed in action.
Volunteer Michael Desmond, from Midleton, County Cork, was killed while attempting to fight his way back into the house.
Volunteer James Glavin, from Cobh, County Cork, was killed during the fighting.
Volunteer Michael Hallahan, from Midleton, County Cork, killed in action.
Volunteer Richard Hegarty, from Garryvoe, County Cork, killed in front of the house when attempting to go for aid.
Volunteer John Joe Joyce, from Midleton, County Cork, killed while attempting to re-gain entry to the farm house.
Volunteer Maurice Moore, from Cobh, County Cork, was captured during the Ambush,and was later executed at Cork Military Barracks on April 28th 1921.
Volunteer Joseph Morrissey, from Athlone, County Westmeath, killed during the fighting.
Volunteer Christopher O'Sullivan, from Midleton, County Cork, killed during the fighting.
Volunteer Paddy O'Sullivan, from Cobh, County Cork, was captured and was later executed at Cork Military Barracks, on April 28th 1921.
The memorial at the site of the original farmhouse.
The graves at Midleton cemetery of the men who died at Clonmult.
The Clonmult Martyrs Commemoration Committee will pay tribute to those brave IRA Volunteers on Sunday , 24th February 2013 : those attending are asked to assemble at the Courthouse , Main Street, Midleton , County Cork , at 2.30pm from where the 90-minute commemoration will begin. All genuine republicans are welcome!
SIX FOOT OF CONCRETE - 21ST FEBRUARY 1976 :
Frank Stagg's coffin was hijacked in February 1976 by the then Free State Fine Gael and Labour administration.
Exhumed in glory a November moon was drifting
And freedom's light aglow
When some IRA had gathered in a graveyard in Mayo.
Those brave Irish Freedom fighters
Who came together in the West
Had come to fill the promise to lay Frank Stagg at rest.
Frank Stagg had begun his fourth
(and final)
hunger strike in late 1975 - having been convicted under the notorious British Conspiracy Laws - as it was the only 'weapon' he had at his disposal with which to impress on his British captors his desire to be repatriated to Ireland. He died, blind and weighing just four stone, in Wakefield Prison on 12th February 1976, after 62 days on hunger strike.
His remains were hijacked by suited, uniformed and armed members of the State , acting under orders from FS Taoiseach Liam Cosgrave and his 'Justice' Minister, Paddy Cooney - the airplane carrying his coffin was diverted from Dublin to Shannon and, when it landed, the Special Branch surrounded it and forcibly removed the coffin and buried it, supported by an armed escort, under six feet of concrete in Leigue Cemetery in Ballina, County Mayo , in a grave purchased by the Free Staters and which was located about 70 meters from the Republican Plot in that cemetery.
For the following six months, armed State operatives maintained a heavy presence in the graveyard to prevent Irish republicans from affording Frank Stagg a proper burial but they were not the only group keeping a watch on the grave : the IRA were aware of their presence and , after the Staters withdrew, the IRA made their move: on the night of November 5th, 1976, the IRA disinterred Frank Stagg's remains and reburied them with his comrade, Michael Gaughan.
When questioned in Leinster House about this sordid affair, its 'Director' , Paddy Cooney , stated -
"The persistent attempts by members of an unlawful organisation and their associates to exploit the situation that arose are well known and, indeed, notorious. Because of this and because also of certain obligations of confidentiality, I must decline to make any comment on the question of the choice of burial place...."
The
"question of the choice of burial place"
was, thankfully, not one that was left to Cooney and his thugs to decide.
FINE WORDS, AND WELL-DELIVERED : IT'S THE SOURCE THAT IS SUSPECT.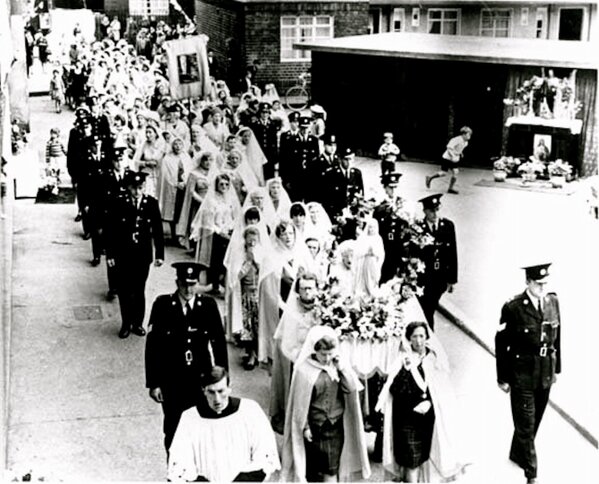 Abused , exploited and escorted by the State : "residents" (inmates) from a Magdalene Asylum (as they were more commonly referred to) in Dublin, pictured whilst attending a Catholic religious festival in 1960.
Should be no need to explain this issue to any reader as it has been in the news here for weeks in relation to the
'will-he-won't-he-apologise'
speculation engaged in by the media. And he did , in a well-timed and expertly choreographed move, no doubt designed by his overpaid taxpayer-funded spin doctors , whom had obviously learned a lesson from the manner in which a different Fine Gaeler had publicly treated (and threatened) another victim of the State.
As soon as some other issue distracts the public and the media, and the spotlight fades from the Magdalene women, this Fine Gael and Labour State coalition will quietly attempt a divide-and-conquer strategy with the women ie 'play' one off the other and place every legal obstacle they can in the path of these State victims ever obtaining proper justice. Words are cheap and, when you know you are going to get politically annihilated at the next election due to the economic terrorism you have inflicted on the electorate, you have nothing to lose by sobbingly latching-on to a 'hot topic' and promising that it is your intention to 'do the right thing'.
As with Bridget McCole, it's nothing personal : it's just business, Free State-style. Your place is at the bottom of the Ivory Tower and how dare you attempt to challenge those in it. That's just the way this place operates. Those victims of the Magdalene Asylums will come to realise that in time.
GERRY SHOULD HAVE ASKED AENGUS OR SEÁN FOR A 'DIG OUT'
(....or offered them one!)
.......
Flies business class to America for an operation which was , he claimed, financially out of his reach whilst maintaining a holiday home he can't afford to keep.
PSF's Seán Crowe and, if you look carefully, you'll see the gravy train in the background....
Aengus Ó Snodaigh, on the ball when it comes to saving himself money - and claiming it....
In 2012 , Aengus joined an elite 'inner circle' of Leinster House reps who claimed €770 each a week in travel and expenses (on top of their salary of €1,920 a week) - Catherine Byrne (FG) , Eric Byrne (Labour) and Joan Collins (ULA).
Seán Crowe (PSF Leinster House member for the Tallaght, Dublin, area), not to be outdone in the
'I'm worth it, too...'
-stakes, also pocketed €770 a week in travel and expenses (on top of his salary of €1,920 a week) in 2012: that's a drain on the State taxpayer of €2,690
a week
, every week, for each of those named above and some even awarded themselves more than that, including the above-mentioned Gerry Adams who, last year, collected a taxpayer-funded weekly salary of €1,920 and also collected 'expenses' of €1,198 a week on top of that salary - a weekly total of €3,118 !
It's obviously not enough , as he's having money worries to the extent that he may not be able to keep his holiday home
(despite having the financial wherewithal to remortgage the four-bedroomed property last November)
and he is dependent on rich supporters to bail him out, health-wise. To ease his burden, we have set-up an account into which you, the reader, can donate
(preferably US Dollars , but he won't refuse any currency)
:

Those without a 'PayPal' account can click here to donate. Much appreciated.....
Also ,Mr Adams is right to say that he needs to apologise for past actions, not the least of which was his attempt to publicly hijack Irish republicanism in 1986
(he spent the three years prior to that year working towards that objective , 'inhouse')
but , due to the hard work of genuine Irish republicans, Adams only succeeded in exposing himself as just another constitutional nationalist hiding under a republican banner and others of that ilk , both from within the then Sinn Féin organisation and outside of it, rushed to join him in his 'new' enterprise. Come to think of it , an apology would not suffice.
Thanks for reading, Sharon.
---
---
---